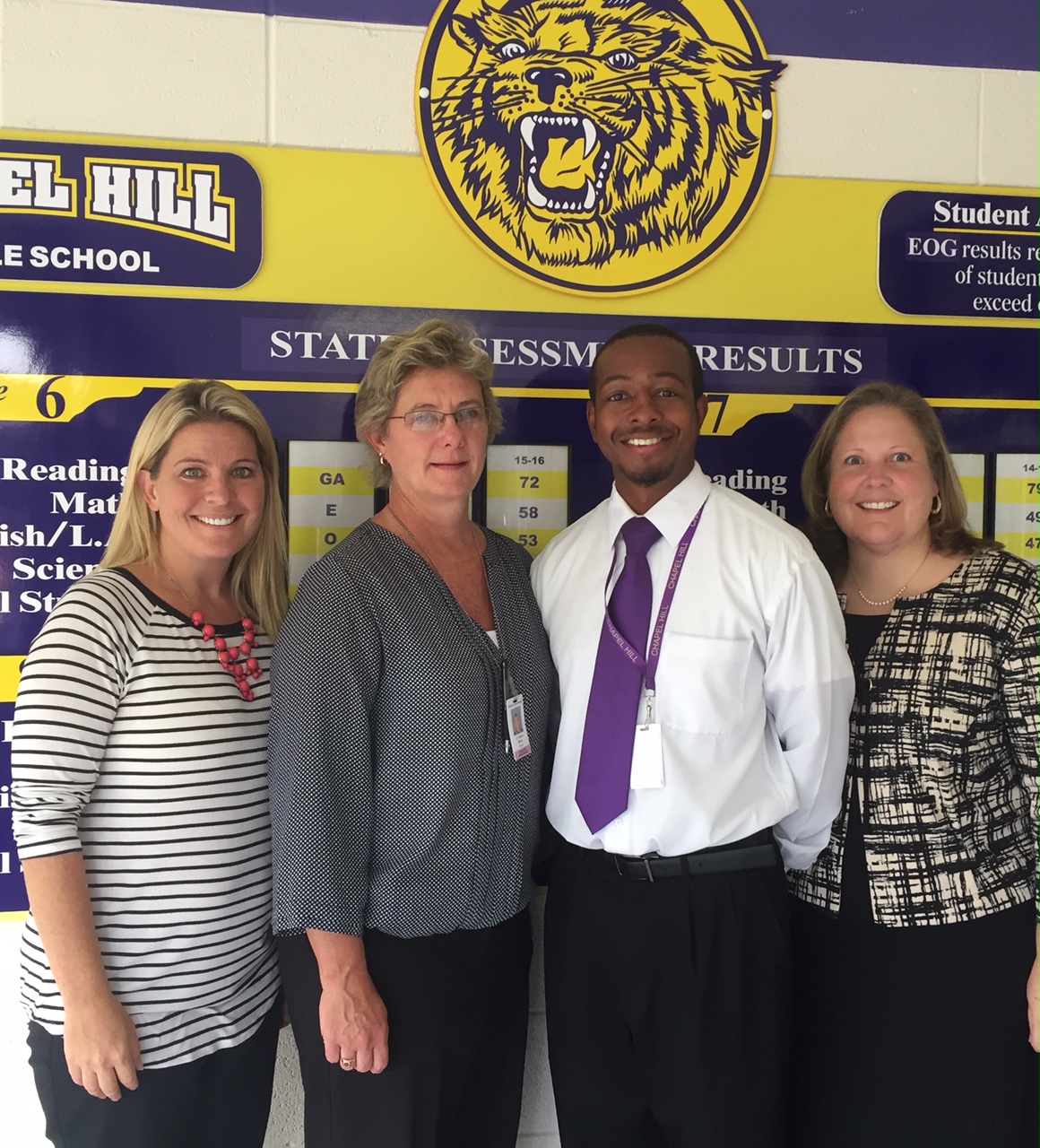 Administrative Team

Dr. Jolene Morris, Principal
Stephanie Godfrey, Assistant Principal
Amy Ludlow, Assistant Principal
Jamar Graham, Assistant Principal
Chapel Hill Middle School -
An Advanced Academic and Fine Arts Theme School
By: Dr. Jolene Morris, Principal
Dear Parents and Students,
Welcome to Second Semester! I am excited about the beginning of 2017 and the learning experiences your student will encounter during Spring 2017! I hope that each Wildcat family had a restful break and that each family was able to take time to review their student's First Semester Report Card that we sent home on Friday, January 6th. Student have completed half of the year and will have two more grading periods to maintain academic excellence and grow in each learning area.
New Wildcat Incentive Cards will be distributed on January 17th and 18th. I am so proud of the 650+ students who earn Wildcat Incentive Cards each nine weeks! The fourth week of January is one of my favorite weeks of the year. January 23rd through January 27th is our annual Spirit Week. We hold our annual Sportsfest event on Friday, January 27th. Students will all attend our Winter Pep Rally on the afternoon of January 27th. Look for the Sportsfest Memo (which will be sent home on January 18th) so you can plan to dress up during Spirit Week. Our days will be: Monday = Tacky Day, Tuesday = Decade Day, Wednesday = Sports / Team Day, Thursday = Twin Day, Friday = CHMS Spirit Day (Purple/Gold/White).
February will be an exciting month with our Basketball Tournament, our annual Hoops for Heart Charity event and our Black History Month Assembly (We are VERY excited about the speakers / performers who will come to CHMS this February). Our Spring sports will also hold try-outs in February, so students should listen carefully to the daily announcements if they are interested in trying out for Track or Soccer! The Beta Club will hold a Valentines Sucker sale in February, so save a few dollars to send a sucker to a friend! Students have a three-day holiday on February 20, 21 and 22.
As we move into March students will be ending the Third Grading Period (March 15th) and will begin the Fourth Grading Period and new Connections classes on March 16th! Report cards will be sent home on Friday, March 17th. March will also be a busy time with Soccer games, Track Meets, a Chorus Concert and High School Registration! Eighth Grade students and parents will go to their High Schools on the evening of March 23rd and register for Ninth Grade classes!!! Ms. Ludlow will be sending home High School Registration information the first week of March. The Eighth Grade Dance committee will send home our first letter about the Eighth Grade Dance on Friday, March 17th, as well. Olympic T-Shirt sales will also occur each year in mid-March.
April will be here before we know it. Students begin April with Spring Break from April 3rd through April 7th. Students will return to school on Monday, April 10th and will start their Georgia Milestones End of Grade Testing on Tuesday, April 11th. Please make every effort to have your student on-time and present for our testing sessions on April 11, 12, 13 and April 18 and 19. Students who attend in the morning testing sessions tend to perform much better than students who have to attend afternoon make-up testing sessions. April will close with our Spring Musical and the Middle School County Track Meet. I hope CHMS families will come out and support both of these endeavors.
Our last month of Spring Semester is May. May will begin with band concerts, our fifth grade orientation (May 11th) and the Eighth Grade Dance (Friday, May 12th). The Annual CHMS Honors Nights will be held on Monday, May 15th (Sixth Grade @ 6:00pm and Seventh Grade @ 7:15 pm) in the Chapel Hill HIGH School Theater. The eighth grade Honors night will be held on Tuesday, May 16th @ 6:00 pm in the Chapel Hill HIGH School theater. The month of May will draw to a close the week of May 22nd with Final Exams and the CHMS Olympics!!! Students will end this school year on May 26th with our special End of the Year Goodbye Assembly.
Along with my Assistant Principals [Stephanie Godfrey, Amy Ludlow, and Jamar Graham], I look forward to Spring 2017 and working with all of our amazing CHMS families. I continue to be impressed with how your students continue to meet High Academic and Behavioral expectations on a daily basis and hope you know how proud I am to serve the Chapel Hill community.